OCTOBER 15, 2020 BY BARRY DUKE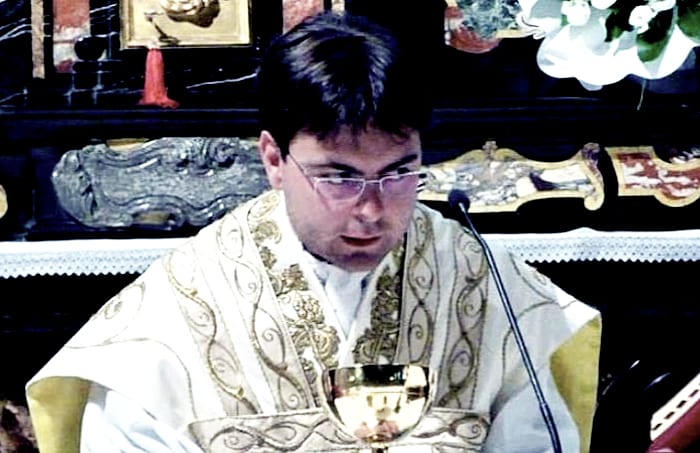 CATHOLIC priest Gabriele Martinelli, above, accused of repeatedly raping a pupil at a pre-seminary, as well as being violent and threatening blackmail, made his first appearance at a trial that began yesterday (Wednesday) in the Vatican.
Co-defendant in the trial is Fr Enrico Radice, 72, who is accused, among other things, of impeding investigations into Martinelli's alleged abuse of the boy, which began when the student was just 13, and lasted for five years.
Martinelli and Radice were present in the Vatican courtroom for the eight-minute hearing, accompanied by their lawyers. Neither man has publicly addressed the allegations.
The next hearing, which will include the questioning of the two defendants, will take place on October 27, according to court president Giuseppe Pignatone.
The alleged abuse is said to have taken place from 2007 to 2012 at different times and places in Vatican City State. At the time, Martinelli was an alumnus of the St Pius X pre-seminary, a residence for about a dozen boys aged 12 to 18, who serve at papal Masses and other liturgies in S Peter's Basilica.
Martinelli would return to the youth seminary as a visitor, and to tutor and coordinate the students' activities. He is accused of abusing his authority at the seminary and taking advantage of relationships of trust, as well as using violence and threats, in order to force his victim, identified as L G:
To undergo carnal acts, sodomy, masturbation on himself and on the boy.
L G was born in 1993 and was 13 at the time the alleged abuse began, turning 18 about a year before the abuse ended.
Martinelli, who is a year older than L G, was ordained a priest for the Diocese of Como, Italy, in 2017.
Radice was the youth seminary's rector for 12 years. He is accused, as rector, of having helped Martinelli:
Evade investigations, after crimes of sexual assault and lechery.
Radice is also accused of sending a letter on October 3, 2013, to the bishop of Como, Diego Attilio Coletti, challenging a complaint by the alleged victim against Martinelli, and speaking of a fumus persecutionis, a Latin expression meaning a "suspicion of persecution."
Another accusation is that he later impersonated the bishop in a letter using the diocesan letterhead to announce the "imminent" ordination of Martinelli.
Before the start of the trial Catholic Sentinel reported that allegations of abuse at the pre-seminary began circulating in 2013 and were investigated by staff and the Diocese of Como.
In his book, Original Sin, Italian journalist Gianluigi Nuzzi, whose books based on leaked Vatican documents were at the heart of two other Vatican trials, had written about one student sexually abusing another at the seminary.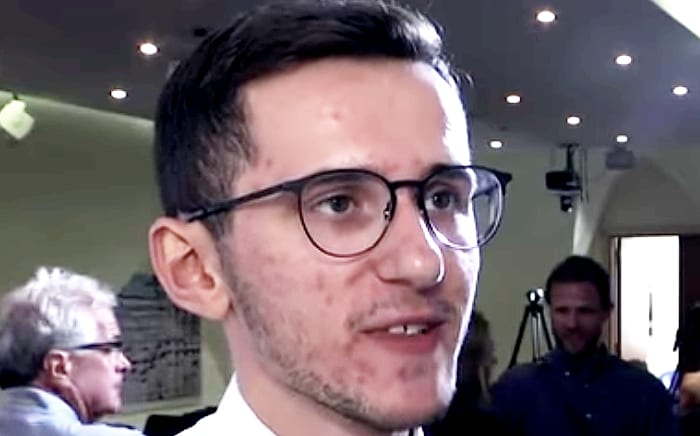 The Italian television program Le Iene followed up with an investigation featuring an interview with a young Polish man, Kamil Jarzembowski, above, who said he arrived at the pre-seminary at age 13, wanting to be an altar server for the Pope.
Kamil claimed another student, one given responsibility by the rector for determining the liturgical roles of all the students at papal Masses, regularly sexually abused his roommate.
Jarzembowski said the older student, Martinelli, would come into their room at night, get into bed with his roommate and abuse him.
Last year Church Militant reported that a preliminary investigation was entrusted to Fr Andrea Stabellini, judicial vicar for the diocese of Como. According to Archbishop Carlo Maria Viganò, Stabellini found evidence that warranted further investigation, but Vatican officials quashed the inquiry and punished those involved:
The Bishop of Como removed Don Stabellini from the post of Judicial Vicar; the whistleblower, the seminarian Kamil Jarzembowski, was expelled from the seminary; the two fellow seminarians who had joined him in the denunciation left the seminary; and the alleged abuser, Gabriele Martinelli, was ordained priest in July 2017.
Jarzembowski, now an atheist, said in an interview with AP yesterday that he wrote several letters over the years to the Pope and other church authorities detailing what he had seen as the roommate of the alleged victim, but never received a reply.
He reported seeing his roommate repeatedly molested by Martinelli at night.
It was terrifying seeing these things because at the time I was 15. I had never even seen two people having sex and yet I was forced to watch these things inside the Vatican.
The once devout Jarzembowski said he has since lost his faith entirely in the church and God.
Psychologically it was pretty tough to take because I came to the Vatican to serve the church. I was a believer. And yet at night I was forced to look at these scenes.
He claimed that if he talked about what he saw "I would suffer consequences."
In September 2019, the Vatican's Promoter of Justice requested the indictment of the two accused priests.https://c7228906b626fe32ddfa75cef5486c2e.safeframe.googlesyndication.com/safeframe/1-0-37/html/container.html
• Please report any typos/errors to barry@freethinker.co.uk
If you'd like to buy me a cup of coffee – and boy, do I get through a LOT of coffee keeping this site active – please click the link below.