JULY 18, 2020 BY BARRY DUKE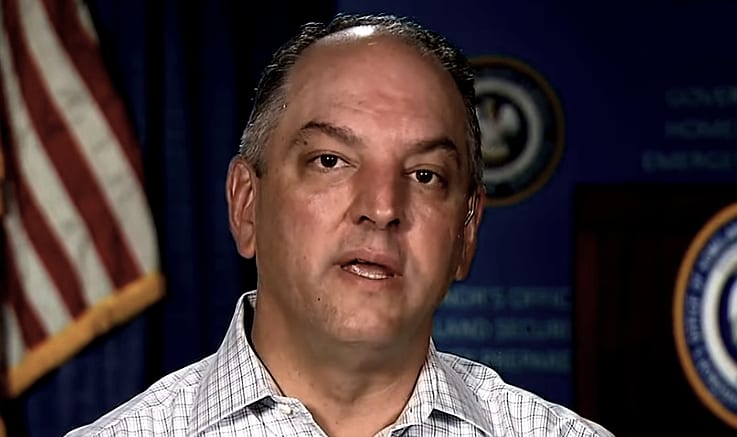 IN A move that proves the Republicans haven't quite cornered the market in religious lunacy, Louisiana's Democratic Catholic Governor John Bel Edwards, above, has asked people living in the Pelican state to embark on a three-day prayer initiative in the fight against COVID-19.
At a press conference on Thursday, Edwards asked all residents to join him in three days of lunch fasting and prayer beginning Monday, July 20 through Wednesday, July 22.
He called for the fasting and prayer for those who are sick, the caretakers, and for the families of those who have died from during the pandemic.
Edwards invited everyone in the state to participate in the event regardless of their religious faith.
I know it's a little bit unusual. This will be a spiritual diet and exercise that I, as a Catholic Christian, believe is very important anyway.
Edwards said the idea came from a telephone conference that he had last week with pastors across the state. The governor said he hosts conference calls with religious leaders every three weeks.
This is the second time in four months that Edwards has called for prayers and fasting.
That appeal to the The Almighty clearly fell on deaf ears. Louisiana now has the third-highest rate of confirmed COVID-19 cases per capita of any state in the US.
Undeterred, Edwards is determined to go a second round, using prayer:
To comfort to those that have lost a loved one to COVID-19, the complete recovery of those that have tested positive, and that God will, as He has done before, heal His people and our land.
Edwards was re-elected in November to his second term as Louisiana's governor In 2017 he signed into law one of the most restrictive anti-abortion laws in the country, earning praise from groups like the Susan B. Anthony List, which applauded him for"
Leading the way in the bipartisan effort to bring our nation's laws into line with basic human decency.
• If you'd like to buy me a cup of coffee – and boy, do I get through a LOT of coffee keeping this site active – please click the link below.