NOVEMBER 6, 2020 BY BARRY DUKE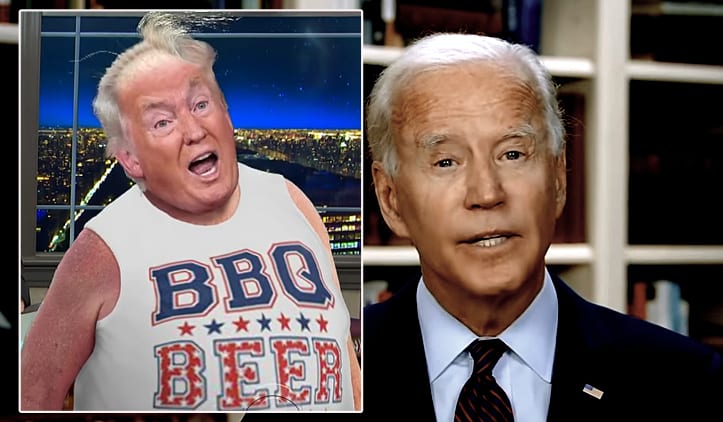 I VOWED to post nothing about the US Presidential Election until it was done and dusted and a winner declared, but the news that the very godly, very Republican Lynchburg City, Virginia, has voted for its first Democrat candidate, Joe Biden, since 1948 is far too good to pass over.
Once described by The New York Times as the "heart of pro-Trump evangelical Christianity," Lynchburg is the home to America's largest evangelical university, and Trump – given the hysterical fervour with which he's courted the religious right – should have won it by a landslide.
Instead he lost Lynchburg City. Not by much, granted – just 750 votes – but, hey, what a fantastic rejection of the septuagenarian toddler, described by students at Liberty in 2016 as:
One of the worst presidential candidates in American history. Donald Trump does not represent our values and we want nothing to do with him.
That line appeared a letter signed by roughly 2,000 students and alumni, after Liberty's then President, the now utterly disgraced Jerry Falwell Jr, lovingly endorsed Drumpf the first time round – and frequently since.
Despite the distaste many students had for Trump, Lynchburg ended up voting Republican in 2016, with Trump receiving 50.9 percent of the votes and Democratic presidential candidate Hilary Clinton receiving just 41.8 percent. This time round Biden gained 48 percent of the votes, while Trump got 46 percent.
Lynchburg has had a long history of voting Republican, with the vote for Biden marking the first time the city has voted for Democrats since 1948, according to the Virginia Department of Elections.
Did revelations of Falwell's kinky sexual proclivities, his drunkenness and dodgy business dealings that toppled him from his post of Liberty President have a role in Trump's Lynchburg defeat?
That's anyone's guess. But Sarah Posner, author of Unholy: Why White Evangelicals Worship at the Altar of Donald Trump, told the Guardian that Falwell Jr's influence has been overestimated and that:
His fall does not change anything. Trump has built relationships with the evangelical base and the religious right leadership in Washington, and they see him as their saviour – God's hand is on him, he has come to save America at this critical juncture.
This is the sort of thing Posner was talking about:
By the way, the Amazon blurb for Unholy says:
"In terrifying detail, Unholy illustrates how a vast network of white Christian nationalists plotted the authoritarian takeover of the American democratic system. For anyone wondering what a second Trump administration might bring, there is no more timely book than this one." – Janet Reitman, author of Inside Scientology.
Why did so many evangelicals turn out to vote for Donald Trump, a serial philanderer with questionable conservative credentials who seems to defy Christian values with his every utterance? To a reporter like Sarah Posner, who has been covering the religious right for decades, the answer turns out to be far more intuitive than one might think.
In this taut inquiry, Posner digs deep into the radical history of the religious right to reveal how issues of race and xenophobia have always been at the movement's core, and how religion often cloaked anxieties about perceived threats to a white, Christian America.
Fueled by an antidemocratic impulse, and united by this narrative of reverse victimization, the religious right and the alt-right support a common agenda – and are actively using the erosion of democratic norms to roll back civil rights advances, stock the judiciary with hard-right judges, defang and deregulate federal agencies, and undermine the credibility of the free press. Increasingly, this formidable bloc is also forging ties with European far right groups, giving momentum to a truly global movement.
Revelatory and engrossing, Unholy offers a deeper understanding of the ideological underpinnings and forces influencing the course of Republican politics. This is a book that must be read by anyone who cares about the future of American democracy.
Overall, the Dems retained the state of Virginia, with Biden gaining 53.9 percent of the votes. In 2016 Clinton won the state with a margin of 5.3 points.
Meanwhile it's reported here that those states won by Trump have the highest of all America's Covid-19 infection rates [cartoon].
In a campaign stop in Manitowoc on September 2 Biden struck back at an assertion Trump had made earlier in the month about COVID-19 deaths: That so-called "blue states" were driving the country's escalating death rates.
Trump, trying to burnish his performance in combating the virus, had said if those states were removed from the equation, the US would really be "at a very low level" of deaths.
"Wrong," said Biden:
If you just count all the deaths in the red states, we are number two in the world in deaths, just behind Brazil.
As of yesterday, more than nine million people in the US have had confirmed coronavirus infections and more than 230,000 have died of COVID-19. Tens of thousands of new cases are reported daily nationwide.
Update: Best headline of the day from The Independent:
Biden campaign threatens to 'escort Trump out of White House' if he refuses to concede election: Democrat's campaign refers to president as 'trespasser' as election victory nears.
• Please report any typos/errors to barry@freethinker.co.uk
If you'd like to buy me a cup of coffee – and boy, do I get through a LOT of coffee keeping this site active – please click the link below.