OCTOBER 2, 2020 BY BARRY DUKE
USA TODAY carries this headline 'May God's healing powers touch them': Twitter reacts after President Donald Trump announces he and Melania are positive for COVID-19.'
While it's indeed true that Twitter has gone into a prayer frenzy over the news that Trump has been forced into quarantine, there are some pretty snarky messages amidst thousands calling for prayers: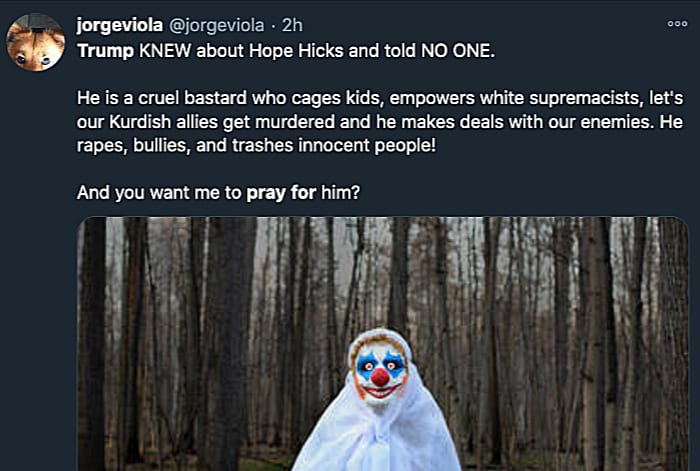 The reference to Hope Hicks followed a New York Times report that Hicks is the closest known person to Trump to have contracted the virus.
That an adviser with such proximity to other aides has the virus raised alarms inside the White House, where officials worried that other top officials may have been infected.
Officials at the White House have known about Ms. Hicks's likely diagnosis since Wednesday evening, when she traveled with the president aboard Air Force One to Minnesota for a campaign rally in Duluth.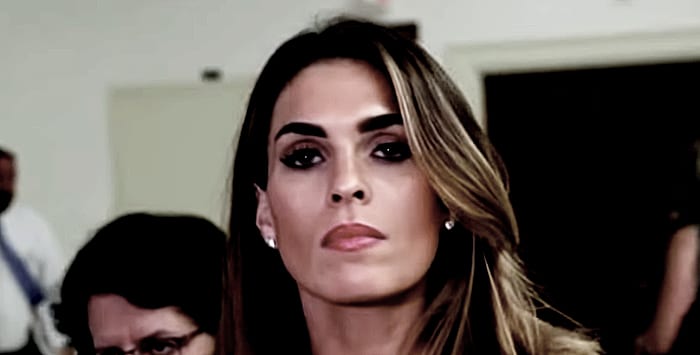 One person familiar with the events on Wednesday said that Ms. Hicks (above) began exhibiting minor symptoms around the time of Mr. Trump's rally, and that she was quarantined on the return flight to Washington and then disembarked from the back entrance of the plane.
One Twitter user made a worrying observation:
Trump shouted, spitting venom at @JoeBiden for 90 minutes. PLEASE pray for Joe and Jill that they don't get this virus.
Another said:
Please everyone, now is the time we need to pray for Mr. Trump. Pray he shits out his lungs.
USA TODAY noted that "snake oil salesman" Mike Lindell reacted to the news by urging Trump and his wife the First Family to try his proclaimed cure for the infection, oleandrin.
Trump himself tweeted early this morning (Friday):
Tonight, @FLOTUS and I tested positive for COVID-19. We will begin our quarantine and recovery process immediately. We will get through this TOGETHER!
Former White House doctor Ronny Jackson told Fox News that Trump was asymptomatic and predicted the President would:
Weather this storm. I will bet you that he does not develop symptoms, that he moves on and this does not become a big deal.
USA TODAY points out that:
The president has often claimed the U.S. has the pandemic "under control," but his own positive test result – assuming it is accurate – is certain to raise questions about the reopening of schools and businesses when the virus could not be contained within the White House, arguably the most secure facility in the world.
Trump has dismissed concerns about those large campaign events, of which he hosted more than a dozen in September. He has also downplayed the importance of a face covering for himself, noting that he is regularly tested at the White House, and mocked Democratic nominee Joe Biden.
During his debate on Tuesday with Democratic nominee Joe Biden, Trump said of his rallies:
Well, so far we have had no problem whatsoever. It's outside – that's a big difference according to the experts. And we do them outside, we have tremendous crowds, as you see.
Trump, 74, is the latest world leader to test positive for COVID-19. British Prime Minister Boris Johnson became the first major leader in March. Brazilian President Jair Bolsonaro fell ill in July and had a series of positive tests. Both men recovered.
Vice President Mike Pence said he and his wife "send our love and prayers to our dear friends," the President and First Lady, and:
We join millions across America praying for their full and swift recovery.
White House physician Sean Conley confirmed the positive test result in a memo released by the White House shortly after the president's tweet. Conley said both were "well at this time" and that they planned to:
Remain at home within the White House during their convalescence.
Conley said he and his team would:
Maintain a vigilant watch. Rest assured I expect the president to continue carrying out his duties without disruption while recovering.
The White House released an updated public schedule for the president early Friday in which his public events had been cancelled, including a planned rally in Florida.
USA TODAY said:
It's not clear whether Trump contracted the virus from Hicks, but Trump told Fox News late Thursday that he and first lady Melania Trump were receiving a test and said he would begin a period of quarantine. At that time, it was not clear how or even whether Trump intended to curtail public events he had planned for the rest of the week.
Trump tweeted on Thursday.
Hope Hicks, who has been working so hard without even taking a small break, has just tested positive for Covid 19. Terrible!. The First Lady and I are waiting for our test results. In the meantime, we will begin our quarantine process!
Several White House aides have tested positive in the past, including a top spokeswoman to Vice President Mike Pence, a Navy valet who was in the same room as the President on the day the person began experiencing symptoms.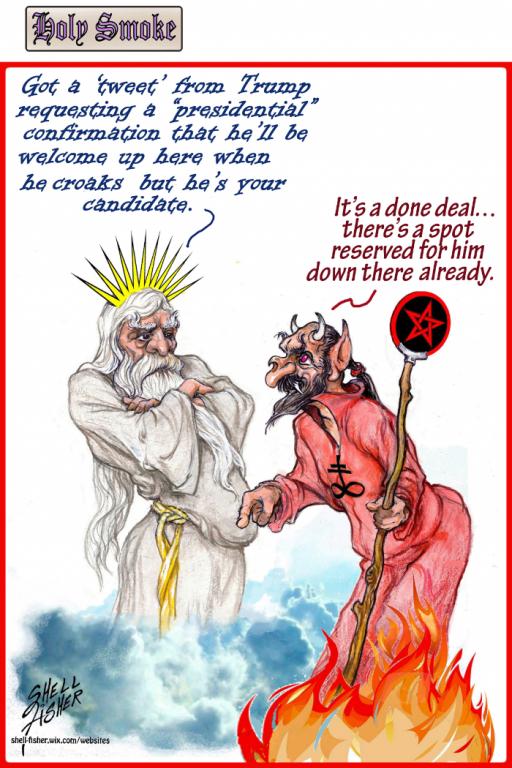 My thanks to resident Freethinker artist Shell Fisher for the illustration.
• Please report any typos/errors to barry@freethinker.co.uk
If you'd like to buy me a cup of coffee – and boy, do I get through a LOT of coffee keeping this site active – please click the link below.