JULY 6, 2020 BY BARRY DUKE
LAST month protesters toppled a statue of St Junípero Serra, a 'brutal' 18th century Spanish priest who founded nine of California's 21 Spanish missions and forced Native Americans to stay at those missions after they were converted or face vicious punishments.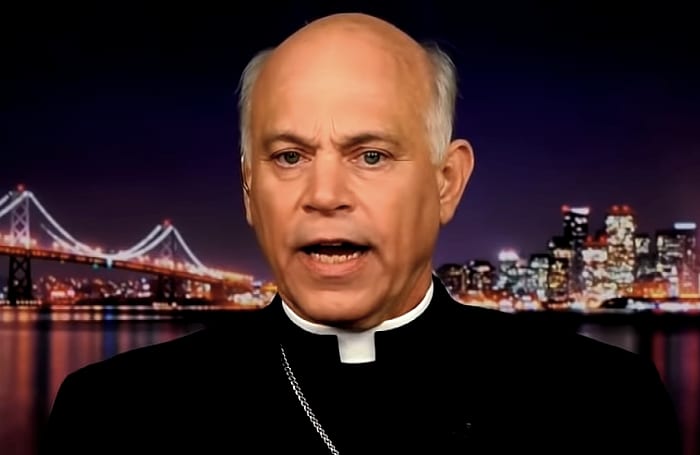 This prompted San Francisco's Archbishop Salvatore Cordileone, above, to bring a big dollop of stupidstition to the site of the fallen statue. He offer prayers, performed an exorcism and conducted other acts of mumbo-jumbo in response to what he called:
Horrendous acts of blasphemy
In a video released by the archdiocese, Cordileone said the toppling of the statue had affected him greatly:
I've been feeling great distress and a deep wound in my soul when I see these horrendous acts of blasphemy … and disparaging of the memory of Serra, who was such a great hero, such a great defender of the indigenous people of this land; someone who was very much a part of my life growing up. I grew up very close to the first mission that he founded in San Diego. So it inflicted a very deep wound in my soul.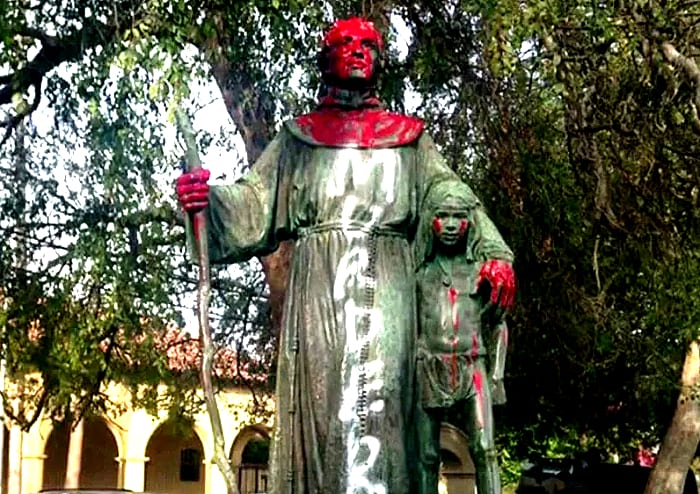 The archbishop performed an exorcism for what he called "an act of sacrilege, an act of the evil one," adding:
This is the activity of the evil one who wants to bring down the Church, who wants to bring down all Christian believers. So we offer that prayer and bless this ground with holy water so that God might purify it, sanctify it; that we, in turn, might be sanctified.
He burbled on:
There's ignorance of the real history. So I would ask our people to learn the history of Father Serra, the missions, the whole history of the Church, so they can appreciate the great legacy the Church has given us, given the world: so much truth, beauty and goodness.

It's a wonderful legacy that we should be proud of. There are those that want to make us feel ashamed of it. We have every reason to be proud of it; but also, we have to approach living our Christian life with humility and continue to give goodness to the world, and give the world beauty and truth, with the help of the grace of God.
I feel another exorcism coming on. At the weekend, a third statue of the missionary bit the dust, this time in Saramento, California. The first was pulled down in Los Angeles.
The missionary was canonised by Pope Francis in 2015.
Junípero sought to defend the dignity of the native community, to protect it from those who had mistreated and abused it. Mistreatment and wrongs which today still trouble us, especially because of the hurt which they cause in the lives of many people.

Junípero Serra left his native land and its way of life. He was excited about blazing trails, going forth to meet many people, learning and valuing their particular customs and ways of life. He learned how to bring to birth and nurture God's life in the faces of everyone he met; he made them his brothers and sisters.
• If you wish to report any typos/incorrect info in this piece, please email me at barry@freethinker.co.uk
If you'd like to buy me a cup of coffee – and boy, do I get through a LOT of coffee keeping this site active – please click the link below.