JUNE 21, 2020 BY BARRY DUKE
AFTER the UK's Office for National Statistics (ONS) revealed on June 19 that people who have 'no religion' had the lowest rate of death involving Covid-19 between March 2 and May 15, Freethinker reader 'Broga' predicted in a comment that this report was unlikely to get much coverage.
On this one, silence will be what the 'people of faith' want and need. With a compliant media and politicians they will get it.
He was partly right. The report has appeared in several secular newspapers, including The Sunday Times, but to date not a single Christian or Muslim outlet has – as far as I can ascertain – carried details of the study.
However, Jewish News published this headline two days ago: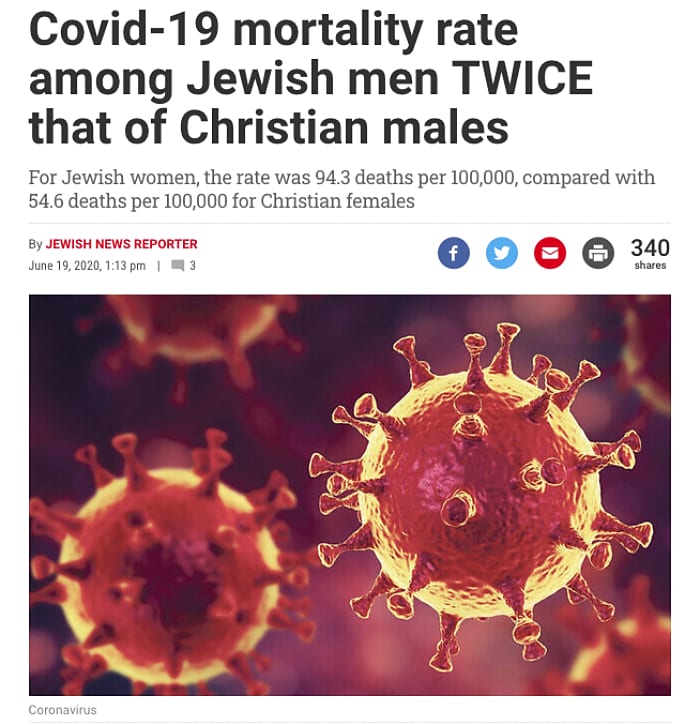 It said the study showed higher Covid-19 mortality rates among Jews than other groups, with Jewish men at twice the risk of Christian males.
Jewish males had a mortality rate of 187.9 deaths per 100,000, which was roughly twice the risk of Christian males (92.6 deaths per 100,000).
For Jewish women, the rate was 94.3 deaths per 100,000, compared with 54.6 deaths per 100,000 for Christian females.
The age-adjusted mortality rate for Muslim males in England and Wales during the first few months of the coronavirus outbreak was 198.9 deaths per 100,000 people, and for females 98.2 deaths per 100,000.
By contrast, those identifying with "no religion" – based on responses in the 2011 Census – had the lowest rate of death involving Covid-19, with 80.7 deaths per 100,000 males and 47.9 deaths per 100,000 females.
ONS head of life events Nick Stripe said:
For the most part the elevated risk of certain religious groups is explained by geographical, socio-economic and demographic factors and increased risks associated with ethnicity.
However, after adjusting for the above, Jewish males are at twice the risk of Christian males, and Jewish women are also at higher risk. Additional data and analyses are required to understand this excess risk.
The number of coronavirus-related fatalities jumped to 497 among UK Jews as of last Friday, up from 492 the previous week.
The latest figure, released on Tuesday afternoon, covers fatalities both in hospital and beyond, using data gathered from burial boards, regional Jewish communities and the Jewish Small Communities Network, as collated by the Board of Deputies.
The Belfast Telegraph homed in on Muslim deaths in this intro:
Muslim males have the highest rates of death involving Covid-19 among all religious groups, with a risk of dying that is 2.5 times higher than males who have no religion.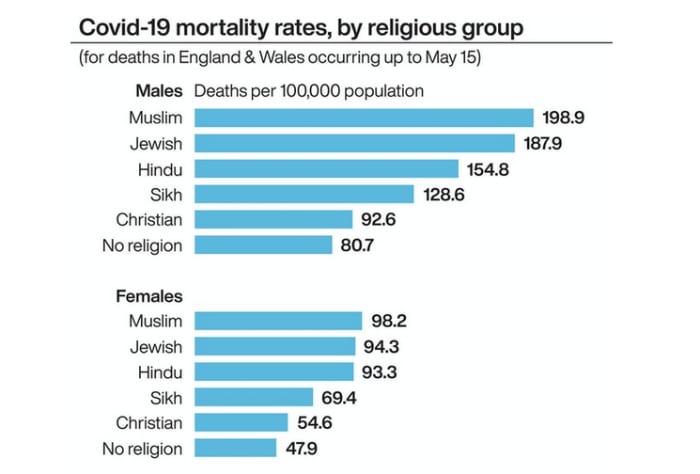 • If you wish to report any typos/incorrect info in this piece, please email me at barry@freethinker.co.uk
If you'd like to buy me a cup of coffee – and boy, do I get through a LOT of coffee keeping this site active – please click this link.